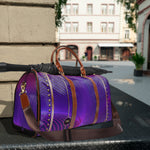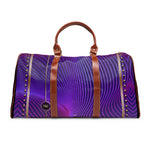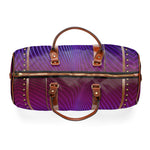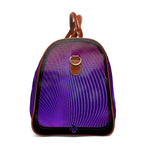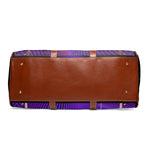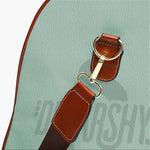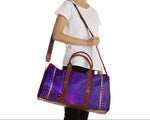 Travel Smarter Stay Organized with Faux Leather Travel Bag Violet Stripes Luggage PU Leather Bag Purple Duffle Bag | 100047E
_________ . D E V A R S H Y . P U . L E A T H E R . B A G...
Shipping will be calculated at Checkout.
For our worldwide Shipping Rates as per product categories, please click here.
_________ . D E V A R S H Y . P U . L E A T H E R . B A G . _________

DEVARSHY Premium Travel Bag is made with High-Grade PU Leather, a waterproof fabric, that can withstand harsh weather conditions and keep your belongings safe and dry.

This handbag has multiple compartments with Gold-colored zipper and Brown Faux Leather handles with adjustable shoulder strap, perfect for a weekend getaway or a long trip.

.: MATERIAL :: High-Grade PU Leather

.: SIZE :: 20" × 12'' × 9" (50.8cm × 30.5cm × 23cm ) (L x H x W)

.: Shoulder Strap Length :: 58.86" (149.50cm)
.: Handle Length :: 6.93" (43.00cm)
.: Gold-colored zipper
.: Water resistant
.: With lining
_________________________________________________________________

Please allow 3 - 5 days for production before shipping.
__________________________________________________________________

CARE INSTRUCTIONS ::

.: Do not expose to the sun,
.: Keep in a dry place;
.: Do not dry clean;
.: Suggested to pretreat visible stains with stain remover.
.: Mix warm water with laundry detergent and clean the bag with a soft bristle brush.
.: Let the bag air dry.
_______________________________________

DISCLAIMER :: The colors shown are for illustrative purposes only and may slightly differ from the actual product colors.
___________________________________________________________________

OUR RETURN POLICY :: We DO NOT accept any return or exchange on this product as they are made to order.

We DO NOT accept any cancellation once your order is placed, but please contact us if you have any issue with your order.

Thank you.

PS :: Our Bags are manufactured and shipped from China (PRC)
--------------------------------------------------------------------------------------------