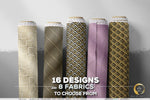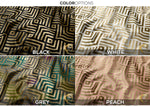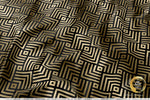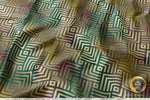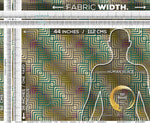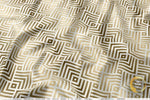 The Square Apparel Fabric 3Meters+, 4 Colors | 8 Fabric Options | Abstract Fabric By the Yard | D20097
♛ PLEASE MESSAGE ME WITH ANY CUSTOM LENGTH or Fabrics YOU WOULD LIKE, WE WILL TRY TO PROVIDE... Other than the given Options.- All Fabrics...
Shipping will be calculated at Checkout.
For our worldwide Shipping Rates as per product categories, please click here.
♛ PLEASE MESSAGE ME WITH ANY CUSTOM LENGTH or Fabrics YOU WOULD LIKE, WE WILL TRY TO PROVIDE... Other than the given Options.

- All Fabrics are MADE TO ORDER, and are printed once your Order is received.

- Please see the Options for Fabrics and Colors from the images and mention the Design no. in your order.

- Please message me if you would like any other type of fabrics.
They are also available in Bulk Quantities... at much better rates.
---------------⚜️---------------

✔️ F A B R I C S ✔️

Fabric Widths : 44 - 58 Inches, (please allow 1.8 to 2 Inches variation.)

Sold by the meters.
( 1 meter = 39.37 inches | 1 Yard = 36 inches )

Multiple Lengths (3metres+) may come in multiple pieces.

➕ PLEASE SEE THE FABRICS IMAGES Carefully, or read descriptions below, to Choose your fabric.

➕ The fabric qualities and its uses are mentioned on the Image. The rest of the Details are in the description below.

➕ Our range of Fabrics varies from sheer to opaque, & from matte to shiny.

🌎| F A S T . S H I P P I N G & S A F E . D E L I V E R Y 🌎

We ship orders to almost anywhere in the world with fast and reliable shipping companies such as DHL, UPS, FedEx, etc. Fully tracked till delivery.

Please allow 3 - 7 BUSINESS days for production, before shipping.

✔️ | P R I N T . D E S I G N & A R T
Our designs are carefully created by professional Graphic Designers and Artists trained academically vast experience in their field.

✔️ P R I N T I N G . Q U A L I T Y ✔️
Printed with the most advanced printing technology. Long-lasting, super-sharp details and images. Our Prints are safe for the environment and do not harm the ecology of the planet.

⚜️💠| 📝 W A S H C A R E . I N S T R U C T I O N S 📝

• Machine wash cold/warm, below 30°C / 86°F.
• Gentle cycle, No soaking, No bleaching,
• Hang dry only.
• DO NOT IRON on Printed side.

₪₪₪₪₪₪₪₪₪₪₪₪₪₪₪₪₪₪₪₪₪₪₪₪₪₪₪₪₪₪₪₪₪₪₪₪₪₪₪₪₪₪₪₪

⚜️💠 F A B R I C S IN D E T A I L ⚜️💠
______________________________________

♠️ PERFORMANCE 4 Way LYCRA ::

Weight: 220g/m²
Printable Width: 58"/147cm
Content: 90% Eco polyester/10% spandex

F E A T U R E S ::
• Very smooth matte surface, Super Stretchy in 4 directions, with excellent recovery.
• Very durable and can withstand years of use.
• Naturally wicks moisture away.
• Made with Eco polyester fibers.

U S E S ::
Work out and compression clothing
Body suits and swimwear, Leggings, Cosplay and costumes, etc.
____________

♠️ ORGANIC COTTON ::

Weight: 150 g/m²
Printable Width: 58"/147cm
Content: 100% Organic Cotton

F E A T U R E S ::
• Classic weave quilting cotton made from quality long staple cotton fibers.
• Fully Matt and natural.
• Smooth print surface.

U S E S ::
Quilting & Crafts
Lightweight clothing, Dresses, Men's Shirts, Nightwear, Masks & Accessories, etc.
____________

♠️ JAMAIQA KOTTON SATIN ::

Weight: 135 g/m²
Printable Width: 44"/111 cm
Content: 100% polyester

F E A T U R E S ::
• Modern, clean, matte look.• Natural, Cotton like look with very slight luster,
• Mostly Opaque and soft micro Twill weave.
• Perfect alternative to Organic Cotton at lower price.

U S E S ::
Quilting & Crafts
Lightweight clothing, Dresses, Men's Shirts, Nightwear, Masks & Accessories, etc.
____________

♠️ SLUB DUPION ::

Weight: 125 g/m²
Printable Width: 44"/ 111 cm
Content: 100% polyester

F E A T U R E S ::
• Slub weave and an enhanced slub texture.
• Alternative for Raw Handloom Silk with mild Lustre.
• Crisp Papery perfect for Clothing with Linings.
• Approx. 75% Opacity.

U S E S ::
Quilting, Cushion Covers, Table Runners, Light upholstery, Skirts, Gowns, Shirts, Jackets and Trousers.
Accessories & Linings.
___________

♛ KASHMYR™ RAYON 14 Kg ::

Weight: 160 g/m²
Printable Width: 44"/111 cm
Content: 80% polyester 20% Rayon

F E A T U R E S ::
• Twill weave Texture with No lustre.
• Alternative for Wool Fabrics.
• Matt, Soft and Heavy feel
• Strong, Durable and Opaque.

U S E S ::
Quilting, Light upholstery, Skirts, Gowns, Formal Shirts, Resort wear, Nightwear, Masks & Accessories, etc.
____________

♠️ LIGHTWEIGHT GEORGETTE ::

Weight: 80g/m²
Printable Width: 44"/111cm
Content: 100% polyester

F E A T U R E S ::
• Smooth crepe-like surface texture.
• Low surface sheen with good flow.
• Semi-transparent fabric, 50% Opacity.

U S E S ::
Bridal wear, Tops, Dresses, Kaftans, Scarves, Skirts, etc.
____________

♠️ JAPAN SILKY SATIN ::

Weight: 90 g/m²
Printable Width: 44"/111cm
Content: 100% polyester

F E A T U R E S ::
• Shiny, Silky Smooth surface.
• Light, slippery and Falls perfect for formal gown.
• Opaque, lustrous and perfect alternative to Mulberry pure Silk.

U S E S ::
Formal Gowns, Dresses, Tops, Scarves & Stoles, Or Linings for Bags, Jackets and Accessories.
____________

♠️ SUMMER MOSS CREPE ::

Weight: 90g/m²
Printable Width: 44"/111cm
Content: 100% polyester

F E A T U R E S ::
• Crepe-like surface texture .
• Super Soft, Low surface sheen with a very good fall.
• Opaque fabric, 80% Opacity.

U S E S ::
All type Ladies Garments, like Bridal wear, Dresses, Kaftans and Scarves, Skirts, Tops, etc. or where softness and Fall is needed.
--------------------------------

All Import Duties, Local Taxes or Custom duties are the responsibility of the Buyer.
*This sale is final and cannot be cancelled, returned or exchanged for any reason.

CANCELLATIONS & RETURNS ARE NOT ACCEPTED, but if you face any problems, please contact me.

▬▬▬▬▬⚜️▬▬▬▬▬⚜️▬▬▬▬▬⚜️▬▬▬▬▬⚜️▬▬▬▬▬
✤✤✤✤✤✤✤✤✤✤✤✤✤✤✤✤✤✤✤✤✤✤